GET YOUR FORKLIFT DASHBOARD IN MALAYSIA
Forklift4S is one of the best forklift dashboard suppliers in Selangor, Malaysia. As a forklift spare parts supplier and repair shop. We can assure you that our aim is to provide the best spare parts and services in Selangor.
A forklift dashboard is pretty important to any forklifts. It does not matter which industry you plan on using your forklift for, working environment or type, a dashboard allows you to know when something is wrong. When a battery on your forklift is running low, when you need to refuel, or just about anything that went wrong, your dashboard will indicate the problem. When that happens, you should inform a forklift operator ASAP.
Forklift Dashboard We Offer
Dashboards can be divided into 3 main sub-categories. Depending on your forklift and working environment, you can choose the right dashboard that your forklift needs.
The most popular sort of dashboard forklifts used are analogue dashboards. It uses a sensor in your forklift to send a signal to your dashboard. These kinds of dashboards go way back to the early 1900s. It includes your typical basic cluster of speedometer, tachometer, and temperature and fuel meters. The majority of forklifts, if not all, have some kind of trip computer installed in it. It calculates the average fuel consumption and estimates range-to-empty.
Digital dashboards have everything your analogue dashboards have. Except for it being analogue, it's digitised and more advanced. They can do everything an analogue dashboard can do but digitally. Some forklift manufacturers went digital for their digital dashboard dials, which makes them high-tech and highly functional.
You can say there are some forklift manufacturers who made their dashboard with thin film transistor, liquid-crystal displays. It turns the traditional instrument cluster into a virtual panel with programmable management and reconfigurable number crunchers.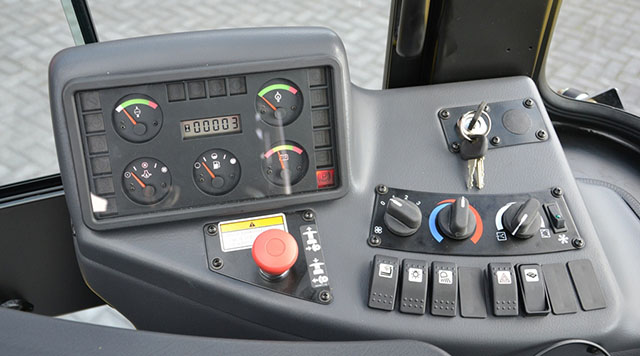 Single-part dashboards is a simplistic dashboard that monitors only 1 specific parameter. It does not really come with a lot of complicated screens or things for you to take note of.
What's In a Typical Dashboard?
A forklift dashboard has multiple parts. Here are some of them.
This tool tracks the time a machine is running. It is available in both analogue and digital versions. A pointer can be included in an hour meter as well. With it, it makes things easy to see whether the meter is registering or not.
This is a programmable switch that prevents any unauthorised access to your forklift. It also prevents any unauthorised access to your forklift too. If you have this installed on your forklift, it increases tremendously with this system
The key switches activate the ignition and other electrical components of the vehicle. With 1 easy turn of the key, your forklift is ready to start and go.
Battery discharge indicators
These indicators reflects when the forklift batteries on your forklift are running low. It will show when you will need to return to the charging area.
Gauges show when something is going on to when you need to refill your tank and so on.
Forklift switches include a lot of different sensors. It can include, among many things, emergency stop switches, temperature sensors, and so on.
With all these parts, it makes things easier for the forklift driver to detect any possible faults and keep track of a lot of parameters. All these parts will help the driver avoid any possible downtime for your forklift.
WHY REPLACE YOUR FORKLIFT DASHBOARD WITH US?
GET YOUR FORKLIFT DASHBOARD NOW!
See what you like? Feel free to give us a call for further enquiries. We are more than ready and willing to assist you with your forklift needs.